Inspiring the entrepreneurial spirit
The undergraduate start-up world is hugely competitive and often restricted to a few select students from select universities. e-Fest changes that. We believe your venture deserves the opportunity to be showcased on a national stage. That's why e-Fest offers cash prizes, connections, workshops and media coverage to help young entrepreneurs pursue the next level and inspire the entrepreneurial spirit.
e-Fest is a dynamic, three-day event that has awarded more than $1.5M dollars to nearly 500 undergraduates, representing more than 60 majors, from universities all across the country. Some students study entrepreneurship, e-Fest encourages all students to bring entrepreneurship to their discipline.
Apply for a Development Grant
Finalists Notified / Announced
Over $1.5M Awarded to Undergraduate Business Ventures
e-Fest was created to give undergraduate students just like you the opportunity to compete with your peers and pitch your business ideas on a national stage. Since 2017, we've granted over $1.5M to teams from all over the nation.
Considering applying to e-Fest 2024? Here's what to do
Take your business idea to the next level and commit to applying to complete at e-Fest 2024!
2
Create your pitch deck & video!
Start working on your pitch deck and video now. Don't forget to check the Download Library for great resources!
3
Submit your pitch to e-Fest 2023!
Save the date and be ready to apply when submissions open on February 1, 2024.
Students, avoid making the judges cringe when you present your business pitch!
If you want to stand out at e-Fest, you need to have a memorable pitch — but not one that makes the judges cringe. Download our exclusive guide, How to Avoid Making a Cringy Pitch: 10 tips from an e-Fest judge, for tips on creating a pitch that will "wow" the judges.
Advisors, e-Fest can help put your entrepreneurship program on the map!
As a guiding force for the next generation of change-makers, we understand the crucial role you play in shaping the future of business. Download our exclusive guide, Roadmap to e-Fest, to learn how to get the most out of e-Fest for your students, your program and your institution.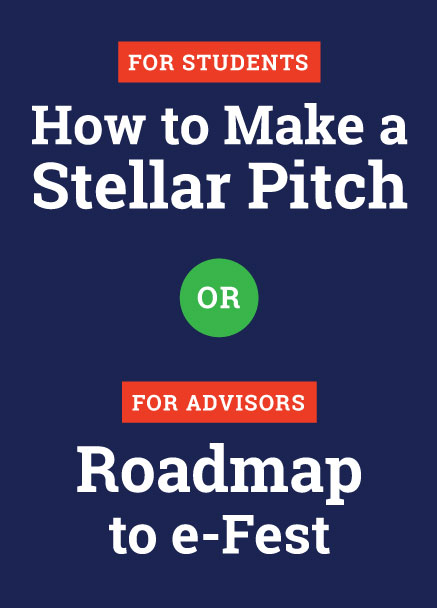 The start-up world is competitive and, despite support from peers and advisors, you might not feel like you have what it takes to propel your business idea to the next level.

Most entrepeneurs feel discouraged at some point. What differentiates succesful founders is the guts to take a chance on their ideas and learn from their failures.

The truth is, not every idea will result in a fortune 500 business. But gaining confidence in the entrepreneurial process will inspire you to champion your own ideas and ultimately pitch them for success.